Portable Power Station
Delivery Time include processing & shipping time
Free shipping for all items & the estimated delivery time information mentioned below
Tracking Information: Available
Estimated delivery time: 12 - 25 days
Frequently Bought Together
Description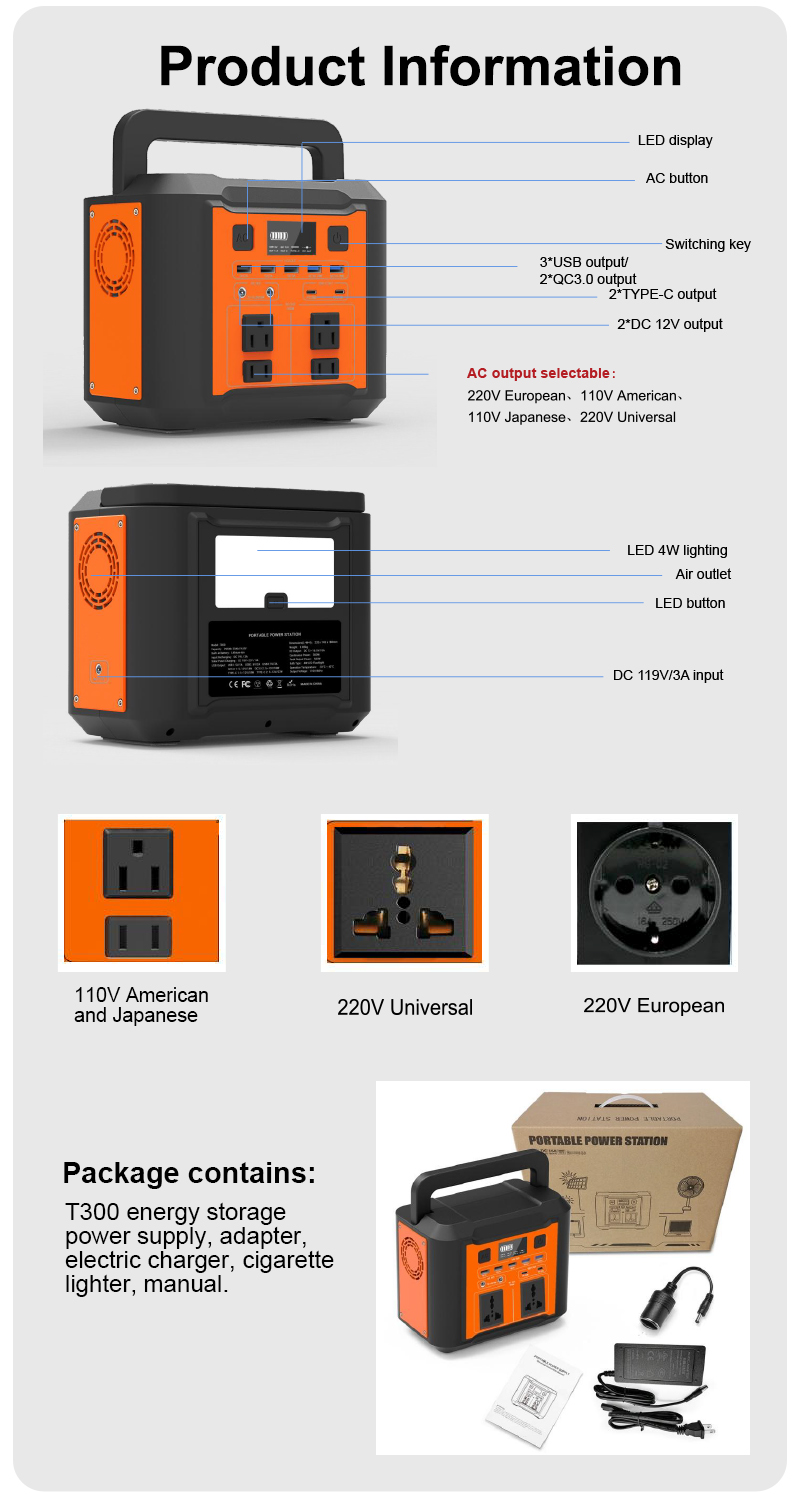 Enormous 300W AC Power: 
Features 1* AC outlet (500W Peak), 2* DC 12~16.5V/10A(15A Max) port, 

1*18W PD port, 1*27W PD port,3*USB output 5V/2.1A Max port,2*USB output 5~9V/2A(QC3.0) port, this brand-new 
portable power station is specially designed for all your devices such as laptops, CPAP, phones, tablets, drones, 
cameras, refrigerators, fans, and more.
Quiet & Eco-Friendly Clean Power: 
Packed with a 296Wh (80000mah) lithium battery pack, no fuel 
or gasoline needed, no fumes, no pollution, and no noise for completely silent operation. The built-in advanced 
BMS protects your devices from short circuits, overvoltage, and other potential hazards.
3 Ways to Recharge: 
Restore power of the solar generator in time via its DC 19V/3A port through carports 
(the connector is included) or wall outlets (AC adapter included). Compatible with solar panels as well to get 
recharged gradually in direct sunlight. (Solar Panel Not Included)
Real Time Output Display: 
The intuitive LED screen allows you to keep track of the real-time output 
wattage of different outlets, and how much power is left for your extended trips. A low battery alert and Temperature
 alarm are ready to help you keep track of the device.
Designed for Outdoor Living: 
Features a LED flashlight to help you see clearly at night or in low-light conditions. 
With a matte finish and solid handle, easy to carry wherever you go. This emission-free portable power station is suitable 
for camping, outdoor activities, music festivals, and any emergencies.
Outdoor camping: electricity worry-free, happy to go with
Photography interview: small and lightweight, intimate assistant
Outdoor exploration: strong power, durable
Medical rescue: critical moments, can't wait
Outdoor construction: times safe, times temperature resistance, times power
Product features small size, easy to carry whether you are outdoor activities, driving tourism, camping, or encountering an emergency, energy storage power supply can provide you with solid power at any time and anywhere.
How can you decide which generator is best suited for your particular needs?

Phone, Tablet, Laptop, Camera, Wi-Fi Router, Fan, Lamp,CPAP
Small devices + Mini Fridge, CPAP, TV, PC & Monitor, Blender

Essential devices + Hair Dryer, Fridge, Electric Grill, Microwave, Coffee Maker, Drill
Portable Power Station
$599.00
US / Orange